Dumb Ways to Die 2, un juego muy tonto pero adictivo
Notice
: Trying to get property of non-object in
/home/moviltoday.com/wp-content/plugins/wp-appbox/inc/getappinfo.class.php
on line
973
Notice
: Trying to get property of non-object in
/home/moviltoday.com/wp-content/plugins/wp-appbox/inc/getappinfo.class.php
on line
973
Notice
: Trying to get property of non-object in
/home/moviltoday.com/wp-content/plugins/wp-appbox/inc/getappinfo.class.php
on line
974
Notice
: Trying to get property of non-object in
/home/moviltoday.com/wp-content/plugins/wp-appbox/inc/getappinfo.class.php
on line
974
Notice
: Trying to get property of non-object in
/home/moviltoday.com/wp-content/plugins/wp-appbox/inc/getappinfo.class.php
on line
976
Notice
: Trying to get property of non-object in
/home/moviltoday.com/wp-content/plugins/wp-appbox/inc/getappinfo.class.php
on line
976
Notice
: Trying to get property of non-object in
/home/moviltoday.com/wp-content/plugins/wp-appbox/inc/getappinfo.class.php
on line
977
Notice
: Trying to get property of non-object in
/home/moviltoday.com/wp-content/plugins/wp-appbox/inc/getappinfo.class.php
on line
977
Notice
: Trying to get property of non-object in
/home/moviltoday.com/wp-content/plugins/wp-appbox/inc/getappinfo.class.php
on line
982
Notice
: Trying to get property of non-object in
/home/moviltoday.com/wp-content/plugins/wp-appbox/inc/getappinfo.class.php
on line
982
Notice
: Trying to get property of non-object in
/home/moviltoday.com/wp-content/plugins/wp-appbox/inc/getappinfo.class.php
on line
982
Notice
: Undefined property: stdClass::$price in
/home/moviltoday.com/wp-content/plugins/wp-appbox/inc/getappinfo.class.php
on line
983
Notice
: Undefined property: stdClass::$priceFormatted in
/home/moviltoday.com/wp-content/plugins/wp-appbox/inc/getappinfo.class.php
on line
984
Notice
: Trying to get property of non-object in
/home/moviltoday.com/wp-content/plugins/wp-appbox/inc/getappinfo.class.php
on line
997
Notice
: Trying to get property of non-object in
/home/moviltoday.com/wp-content/plugins/wp-appbox/inc/getappinfo.class.php
on line
997
Warning
: in_array() expects parameter 2 to be array, null given in
/home/moviltoday.com/wp-content/plugins/wp-appbox/inc/getappinfo.class.php
on line
997
Notice
: Undefined property: stdClass::$assets in
/home/moviltoday.com/wp-content/plugins/wp-appbox/inc/getappinfo.class.php
on line
1001
Notice
: Trying to get property of non-object in
/home/moviltoday.com/wp-content/plugins/wp-appbox/inc/getappinfo.class.php
on line
1001
¿Conoces alguno de esos juegos tan tontos pero adictivos que se ponen de moda por temporadas? Por si no te viene ninguno a la cabeza, hace unos años podríamos poner como ejemplo al archiconocido Pou o el Hill Climb Racing y, recientemente, Color Switch o el éxito en descargas, Clash Royale.
En móvilToday ya hemos analizado algunos juegos para nuestro canal de YouTube, aquí te dejamos el último que hicimos, sobre Narcos: Cartel Wars; por si te interesa echarle un vistazo.
¿Conoces Dumb Ways to Die 2?
Hoy te traemos uno de estos juegos, Dumb Ways to Die 2 que, actualmente, cuenta con casi 1 400 000 descargas. Esta aplicación se basa en completar una serie de minijuegos para ganar puntos y convertirte en el mejor jugador y el menos tonto de todos.
El diseño del juego es muy simple y minimalista, y sigue al pie de la letra las reglas de Material Design. La interfaz se basa en un pequeño núcleo urbano con diferentes edificios. En cada uno de ellos habrá una serie de minijuegos que tendremos que completar una y otra vez para conseguir la mayor puntuación posible.
Al comenzar con la serie de minijuegos contamos con tres vidas, que perderemos cada vez que nuestro personaje muera ya sea porque fallemos o no lo hagamos de forma correcta. Los minijuegos cuentan con un tiempo determinado para completarlo, cuando terminas con uno comienzas con otro, y así de forma indefinida pero cada vez con menos tiempo para completarlo, por lo que tendrás que ser rápido.
Estos pequeños juegos son muy variados y, para realizarlos tendrás que tocar varias veces la pantalla de forma repetida, inclinar tu dispositivo, hacer círculos en la pantalla, pintar cosas, trepar por una zona pasando el dedo sobre ella, etc.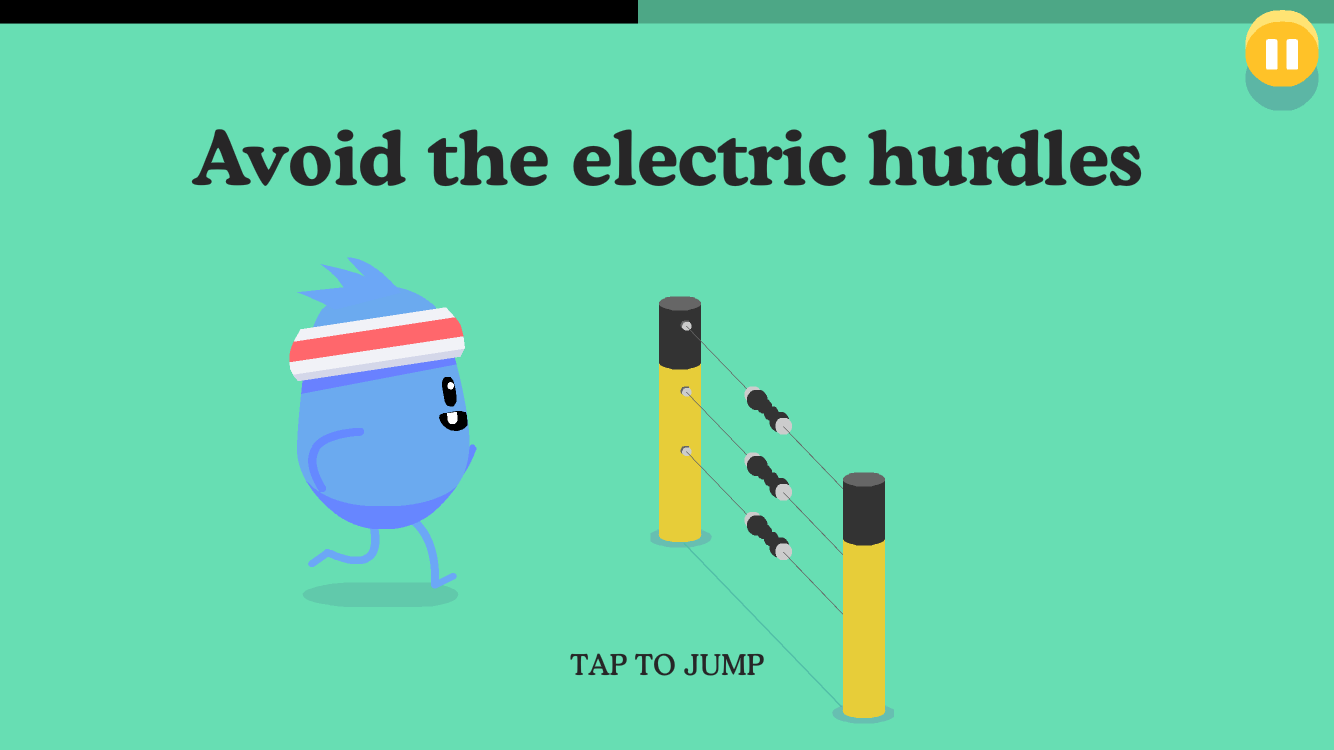 Dumb Ways to Die 2 no tiene una meta como tal, es decir, podrás jugar tantas veces como quieras para superar tus récords o los de los demás.
Cabe destacar que es un juego bastante divertido y útil para pasar el rato, eso sí, al principio creeréis que es una cosa muy rara.
¿A qué esperas para descargarlo?